Beauty, Balance, & Accuracy | Drawn from Life | Mark Tennant special issue El patio de la Luna Art Magazine | Guialeonardo | Ingres: Lessons From A Master | Jean-Michel Correia | PAPoetsArtists Magazine
Beauty, Balance, & Accuracy
---
Mark Tennant's drawings evidence both rigorous academic standards and sensitivity to the nuances of the figure.
By Austin R. Williams
Looking at Mark Tennant's charcoal figures, it is easy to see that he is an artist who draws with a unique combination of academic rigor, intensity, harmony, and beauty. Tennant's subjects are tightly rendered in places but are also somewhat ethereal, with limbs often dissolving into the vast negative space surrounding each figure. The drawings exude discipline and balance – principles that guide many aspects of Tennant's life and art.
Part of this discipline can be found in the fact that Tennant has practical reasons for the many beautiful and intriguing effects visible in his drawings. The limbs that fade to white, the dramatic contrasts between deep shadows and vast highlights, and the sketch lines left to indicate otherwise unfinished areas of the figure are present not only for their aesthetic value but also for compositional purposes. "I want to direct the eye to the beauty of the figure," Tennant says, and he makes many of his drawing decisions with this goal in mind.
His desire to guide the viewer's eye is the main reason Tennant chooses not to fully render his figures, instead leaving limbs and extremities unfinished or entirely absent. "If I'm getting to the extremity, I'm pulling the eye away from the action, I may destroy the overall effect." Tennant notes that even the finest academic drawings can be so tightly rendered and consistently finished that they appear too complete. "You have to finish in the right place; you don't have to go wall-to-wall on the whole thing," he says. "All the good art is about real restraint." Tennant quotes Joshua Reynolds' advice: "No work can be too much finished, provided the diligence employed be directed to its proper object; but I have observed that an excessive labour in the detail has, nine times in ten, been pernicious to the general effect. …It indicates a bad choice."
Large, bold highlights are another striking feature that Tennant uses to direct viewers' eyes and encourage participation in his artwork. To achieve this, he first needs to grab the viewer's attention through the design of the piece and the pose of the model. Then, once the viewer has stopped to look at the drawing, he or she starts participating with the artwork by mentally connecting the dots between highlights and shadows, filling in the form, and imagining the parts of the scene that have not been rendered.
Another goal of Tennant's artwork is to reveal something about the figure that viewers may be aware of but that they have never fully realized or articulated. "Through art, you can tell them what they didn't really know that they knew," Tennant explains. "I want viewers to think, That light is connected to that transition…which is connected to that form shadow…and it falls across the shoulder like that…I never knew that I knew that." The artist cites John Singer Sargent as a master of this effect. "His drawings are unbelievably smashing," Tennant says. "They're Perfect with a capital P."
Creating an image captivating enough to engender such intense involvement on behalf of the viewer begins with selecting a compelling pose for the model, and Tennant often looks for effective poses used by other artists. "I go with poses that are tried and true, maybe with adjustment here and there," he says. A frequent source of inspiration is contemporary artwork from Russia's Repin Academy. "I think that's some of the best work being done right now," he says. "Those instructors really know what they're doing, and those poses really work." Tennant also looks to Prud'hon and 19th-century French academic painters for potential poses, and lately he has been experimenting with a more straightforward, contemporary look. "What makes the figure beautiful is balance," Tennant says. "When one muscle contracts, another expands. When one side is curved, the other side is straight to support it. That's what I'm looking for in these poses. I'm looking for that rhythm that flows from the model stand all the way through the head."
The artist begins drawing with a preliminary diagram to help determine balance, proportion, and placement; he compares this sketch to a recipe or a set of blueprints. He often draws it in a corner of the paper that he will use for the finished drawing, and he sometimes doesn't erase it. He does this to leave a trace of his process, although sometimes, Tennant says, the sketch remains simply because "I forgot to take it off." These initial sketches, as well as the initial lines outlining the figure, are drawn with Tennant's hardest, lightest charcoal pencil – a General's HB (or General's new extra-hard 2H). Later in the process he switches to a softer charcoal pencil (General's 2B) and willow charcoal from Winsor & Newton or from Coates. Tennant draws on 18-x-24 sheets of 70-lb white drawing paper, often Utrecht or Strathmore.
"I sharpen the pencils to needle-sharp points," Tennant explains, "then I hold them with thumb and forefinger and draw with my entire arm, not just with my fingers and wrists. You need to sit well back. All your measurements should be made with arm's length extension so that every time you make a sight measurement, the pencil is the same distance from your eye."
He carefully measures all shapes by comparing height and width proportions and uses every bit of information he can get for points of comparison, including plumb points and level points, as well as fixed points on furniture. "You can't measure too much," he says, "and all the measurements that you make support the expressiveness in the modeling." Head size is key, and he closely adheres to a 7 ½-head academic proportion. "It needs to be done in a precise and accurate manner," he says. "There's no 'good enough' or 'that'll do.' If you do this, and all your combinations agree, the drawing can't help but be accurate." A finished drawing will often show light lines from these measurements in place of arms, legs, or furniture that have not been rendered. "Underneath the drawing, the construction lines are there," he says. "I don't want it all to disappear."
The artist favors a light source that is above, in front, and to the side of the model. "The sun is above our heads," he says, "we respond to things lit from above. I exaggerate it for the drama and the effects it creates." Such lighting allows Tennant to draw deep, carefully rendered shadows. "I spend a great deal of time drawing the shadow shapes – as much time as I do searching for anatomical landmarks," he says. "A lot of people just want to start massing in a dark shape, but I find it's important to construct the light source in the shadow."
Once he has measured all the shadow shapes and outlined them in hard charcoal, Tennant masses them in with willow charcoal in a medium or dark value. "Willow is very soft and forgiving, like a powder," he says. "By massing that in, you can tell pretty quickly if the light is convincing. I take off the excess with the back of my hand and then I work back into it using the 2B pencil. Then, if I took too much off, I go back in with the willow."
Through the process, Tennant stresses that careful planning is essential. "It's three minutes of thinking and one minute of drawing – or five minutes of thinking and 30 seconds of drawing," he says. "The pencils and brush don't have to be moving the whole time. It doesn't mean you're not working if you're sitting there and studying."
Although Tennant advocates the use of precise measurement, he warns against rigidity in the drawing process and cautions that artists need to know when to break free of academic procedure. "There needs to be a balance," he says. "If the process is too mechanical, the drawing is going to be that way. You need the structure in order to support the artistry, but you have to know when it's time to cut loose a bit. The drawing can't say, 'See how well I can draw.' It has to reach for something."
Tennant takes inspiration from artists through history, but he particularly admires 19th-century French artists whose artwork seems both traditional and modern. "I love Manet and his teacher, Thomas Couture," Tennant says. "Their drawing is reminiscent of the Old Masters. It's just gorgeous, but there's something about it that's not the dry academy. It's 19th-century, but it rises above the 19th century and leads us where we are today." Tennant also holds Théodule Ribot, Hans Makart, and Carolus-Duran (the teacher of Sargent) in high regard, and he has especially high praise for Jean-Jacques Henner. "His art is very soft, with beautiful color," Tennant says. "It has a dreamlike quality." As for more contemporary artists, Tennant describes Deane Keller as "one of the most important people that I've ever encountered." He also admires the artwork of Edward Schmidt, Steven Assael, and Alex Kanevsky.
After spending more than 30 years as an art instructor, Tennant is full of valuable advice for draftsmen working to hone their craft. He advocates hard work and building a connection with the Old Masters. These principles have led him to teach courses on copying at museums. "There's nothing like it," he says. "To stand in front of a Rubens or Van Dyck and spend hours in silent conversation with these pieces will broaden you like no other experience. You come away almost like a changed person." In the French academic tradition, Tennant notes, students' first paintings are copies. "Next to figure drawing, copying is the core of the curriculum, but it's been overlooked of late."
"It's not about making a reproduction," he continues. "It's about making a copy – trying to look through years of varnish on there and track the stages of the painting from the construction to the grisaille and finally developing the color. Your copy is just a copy, but then when you paint, you know that you have walked in the footsteps of a master. What it does for the students' confidence is amazing."
The Louvre, in Paris, and the National Gallery, in Washington, DC, are two museums that are especially open to copying. The practice has rich historical precedent; Tennant cites Veronese's The Marriage at Cana as one pinnacle of human and artistic production that has been copied for centuries. Tennant has also looked through copyist records at the Louvre and discovered handwritten names of great artists who registered as copyists, such as an "H. Matisse" who signed up to copy a Chardin in 1893.
Nothing, however, can take the place of hard work. "Like anything else, you have to work, you have to practice," Tennant says. "We say that it's work, but it's fun. You have to love it, though, and you have to do it every day. There's no such thing as drawing too much. You need to study the proportion charts and realize that when you draw, you're constructing, not imitating. You're building the figure the way a carpenter builds a house. And you need to keep your tools in perfect condition."
Through it all, Tennant emphasizes the need for balance in art and work. "It goes back to balance – that harmony between warm and cool, thick and thin," he says. "Straight lines and curved lines compliment one another. A straight line will make a curved line more beautiful, and vice versa. I keep finding that it's all about having control over yourself and finding that balance in your art and life. And of course, my art is my life. The balance exists throughout."
---
About the Artist
Mark Tennant received a B.F.A. from the Maryland Institute College of Art, in Baltimore, and an M.F.A. from the New York Academy of Art, in New York City. In addition to spending decades as a successful artist, he has taught art for more than 30 years. He is the director of Graduate Fine Art Painting and Illustration at Academy of Art University, in San Francisco, where he has been an instructor since 1998. Among other exhibitions, his paintings have twice been displayed in the Salon d'Automne, in Paris. He is represented by Carlisle Gallery, in Auburn, Alabama; Park Gallery, in Carmel, California; Wendt Gallery, in Laguna Beach, California; and Galerie DDG, in Paris. For more information, visit www.marktennantart.com.
Appeared in the Winter 2010 issue of American Artist Drawing Magazine.

Mark Tennant is featured in
The Figure the 'Best of Drawing'
magazine, Fall, 2016 again
in the noteworthy repeat of his
Beauty, Balance and Accuracy article
featuring updated charcoals
of the figure and portrait.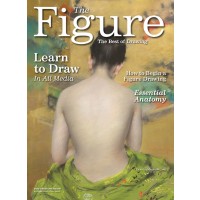 American Artist Drawing Magazine
Winter 2010